1. Richat Structure, Mauritania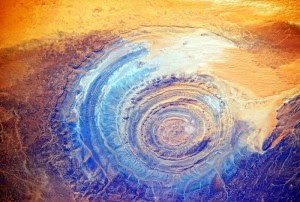 The Richat Structure, also known as the Eye of the Sahara and Guelb er Richat, is a prominent circular feature in the Sahara desert near Ouadane, west–central Mauritania. This structure is a deeply eroded, slightly elliptical, 40 km in diameter dome.
2. Eternal Flame Falls, Orchard Park, New York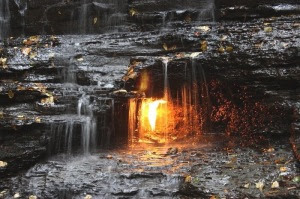 The Eternal Flame Falls is a small waterfall in the Shale Creek Preserve, in Western New York. This small grotto at the waterfall's base actually emits it's own natural gas! If you light a flame in it, it will ignite! This flame is visible nearly year round, although it can be extinguished and must occasionally be re-lit.
3.Reed Flute Cave, Guangxi, China
The Reed Flute Cave is a beautiful tourist attraction in Guilin, Guangxi, China. It is a natural cave covered in limestone with multicolored lighting. It has been one of Guilin's most interesting attractions for over a staggering 1200 years and is over 180 million years old itself!
4. Upper Kanarra Falls, Kanarraville, Utah
This canyon is a beautifully twisted and turned from being rained on over time. The flowing liquid has shaped the rocks over to create a surreal land that everyone can enjoy.
5.Antelope Canyon, Arizona
Antelope Canyon, similar to the canyon above, has also been shaped by water over time. This famous canyon has been featured in many pictures and is quite a sight to see.  is a slot canyon in the American Southwest. It is located on Navajo land east of Page, Arizona. Antelope Canyon includes two separate, photogenic slot canyon sections, referred to individually as Upper Antelope Canyon or The Crack; and Antelope Canyon or The Corkscrew.
6. Fly Geyser, Nevada
Fly Geyser is a man-made small geothermal geyser! It is located in Washoe County, Nevada. It was actually created by accident when a well was being made with a drill.